Having the right construction equipment is essential for success as a contractor. Follow these tips to get the right equipment at the right prices.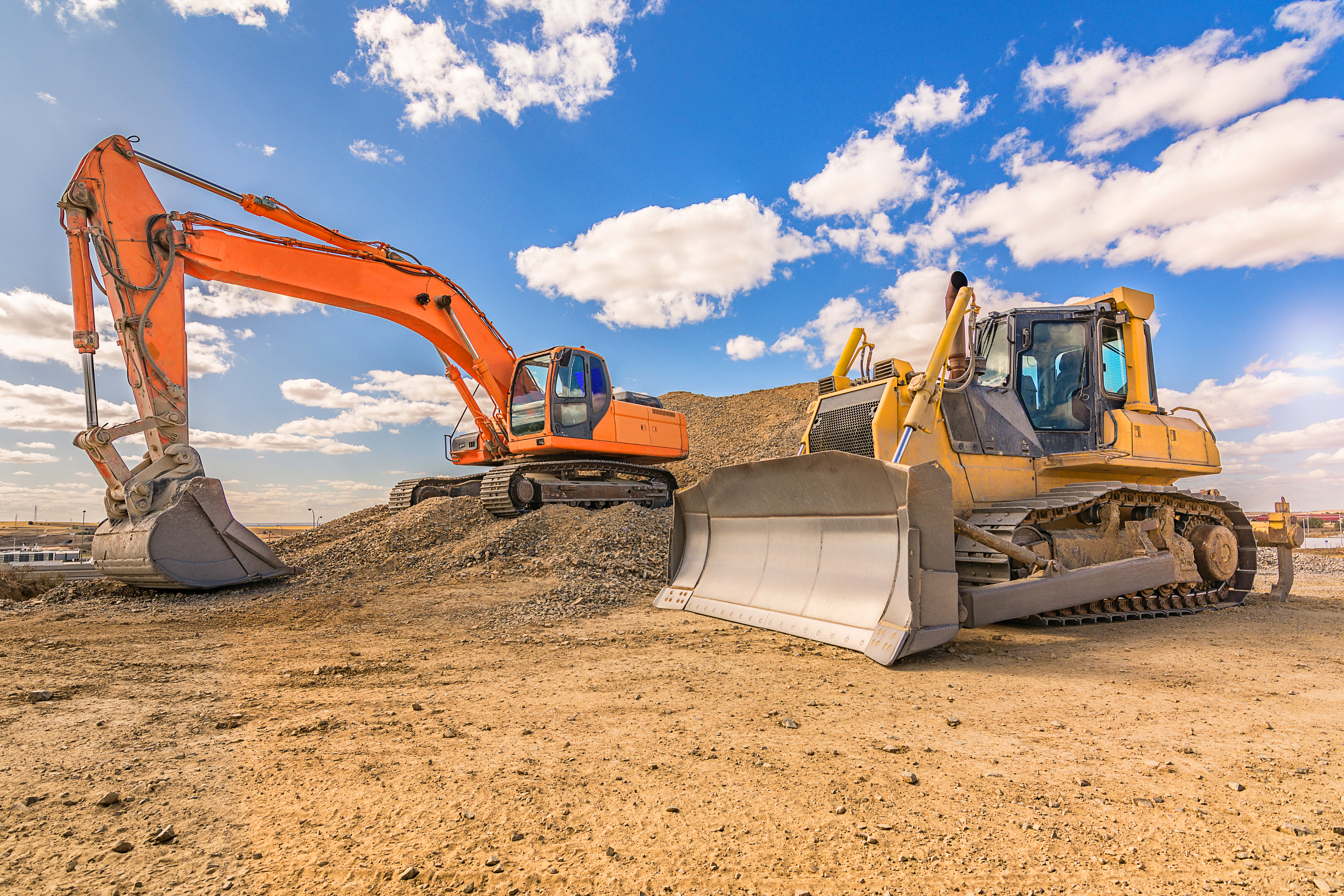 As your business grows, you may want to offer additional services to attract new customers and ensure your revenue increases each year. Many of these services require additional construction equipment, a major investment for any company.
Developing a clear acquisition strategy can help you manage your equipment costs and ensure you maximize your return on investment. Keep reading to learn more about how you can get the equipment you need without putting your business at risk.
Looking for more ways to help your business succeed? Sign up for our weekly newsletter!
---
Determining Equipment Needs
Before you start buying construction equipment, you have to know what type of equipment you need and how much you can afford to spend. Keep these factors in mind as you assess your equipment needs:
Equipment Versatility
One way to keep your equipment costs in check is to purchase equipment that can be used for more than one purpose. Backhoe loaders are a great example of machines used to perform multiple functions. They can be used for a variety of jobs, including landscaping, road paving, excavation, and demolition, among others. Even if a basic piece of equipment only performs one function, you may be able to purchase attachments to make it more versatile. Common attachments include augers, blades, rakes, and mulchers.
Associated Costs
As you assess your needs, don't forget to consider all the costs involved with operating and maintaining a piece of construction equipment. You may need to purchase oil, gasoline, filters, or other supplies to keep it in top condition. If you don't have employees with the knowledge needed to fix complex machinery, you may also need to outsource maintenance activities, further increasing your costs. You also need to think about whether your employees will need additional training to operate the equipment safely.
Work Conditions
It's important to select the right equipment for your working conditions. If you do a lot of excavating, for example, it might be worth paying a little extra for equipment that works well in muddy conditions. You also need to consider local weather conditions, the presence of utility lines, and whether you need to be able to move the equipment around any obstacles at the job site.
Storage Capacity
No matter how useful a piece of equipment is, it doesn't do you any good if you don't have a place to store it. When you're determining your equipment needs, think about how much storage space you have. Don't forget to account for attachments, materials, or other items that need to be stored with the equipment. If getting the equipment would help you grow your business significantly, it may be worth renting a storage unit, but take time to calculate the potential return on investment before you commit to another monthly expense.
Equipment Acquisition Options
Once you decide what you need to buy, you have three options for acquiring it: renting, leasing, or buying. Although many people use the terms renting and leasing interchangeably, they're different acquisition methods. All three options have pros and cons, so review each one carefully before making a decision.
Renting Equipment
If you're just starting out or want to try out a piece of equipment before you lease or buy it, renting is a great option. It's also the most flexible. You don't have to make a big down payment, pay for repairs, or worry about maintaining the equipment while it's in your possession, making renting an affordable option for businesses of all sizes. Another benefit of construction equipment rental is that you may be able to deduct your rental expense on your tax return, reducing your tax burden and leaving you with a bigger profit margin.
Leasing Equipment
Leasing equipment gives you some of the benefits of ownership, but it allows you to avoid the high cost of buying a piece of equipment, maintaining it, and repairing it if it breaks. Equipment leases are similar to loans because you make monthly payments for a certain number of months (e.g., $500 per month for 60 months). When you get to the end of the original term, you can return the equipment or buy it, making leasing a flexible option. Since you don't have to make a large down payment, you'll also have more funds available for other investments, allowing you to continue growing your business.
Leasing has many benefits, but it also has some disadvantages. One of the most significant is that lease agreements usually have higher interest rates than equipment loans, increasing the cost of getting the equipment you need. The Financial Accounting Standards Board has also introduced new rules regarding lease accounting. Currently, the payments made on leased equipment don't have to be included on a company's balance sheet. Under the new standards, lease payments would be classified as liabilities. For public companies required to adhere to FASB standards, this could make it more difficult to attract investors or qualify for loans.
Buying Equipment
If you decide to buy, you can pay for the equipment in full or finance it over a period of time. Depending on which construction equipment supplier you use, you may be able to negotiate favorable repayment terms, allowing you to get the equipment you need without committing to a large monthly payment. You also have the option of buying used construction equipment instead of brand-new equipment if you really want to limit your expenditures.
The main advantage of buying is that you'll have complete control over the equipment once it's in your possession. You won't have to worry about paying extra fees or negotiating new lease terms when the original lease ends. Paying for the equipment in full also eliminates the need to make monthly payments, allowing you to maintain better control over your cash flow. The major drawback of buying is that you're responsible for storing, maintaining, and repairing the equipment. Depending on how much you spend, you may have to keep using the equipment even if something better hits the market a year or two later. The value of construction equipment also declines over time, which means you may not be able to sell it for much money if you want to buy something new.
Selecting Equipment
Now that you understand the pros and cons of each acquisition method, which one should you choose? It really depends on your needs, along with market conditions and the needs of your customers. Here are a few additional factors to consider before deciding whether to rent, lease, or buy.
Equipment availability: If you need specialized equipment, you may not have the option to rent or lease it. This is especially true now that disruptions in the supply chain are making it difficult for manufacturers to get the materials they need to produce a wide range of items.
Economic outlook: In May 2022, the Bureau of Labor Statistics reported that prices rose by 0.3%, a total increase of 8.3% for the 12-month period ending April 30. The high inflation rate has some economists expecting a recession in the coming months, which may force business owners to tighten their belts. If you need new equipment, you may want to consider renting or entering a short-term lease agreement instead of purchasing the equipment outright.
Credit rating: If you don't have enough cash on hand to pay the full cost of the equipment, you'll need to have good credit if you want to get a business loan or finance it through a construction equipment supplier. If your credit history has a few blemishes, you may have to rent what you need until you can be approved for financing.
Equipment Reviews
Before making an investment, take the time to read reviews of different models to determine which one is likely to suit your needs. If you're thinking about working with a new supplier, check Google and other review websites to see if there are any reviews that mention product quality, customer service, or pricing. You may even be able to use Amazon and other retail sites to find detailed reviews from people who've purchased the equipment you're considering.
Ways To Reduce Equipment Costs
Whether you rent, lease, or buy, it's important to manage your equipment costs effectively. When business is booming, good financial management can help you maximize your profits. If things slow down, it can help ensure you have enough cash on hand to continue purchasing materials, paying subcontractors, and attracting new customers. Once you get your new equipment, follow these tips for maximizing your investment and reducing your costs.
Routine Maintenance
When you're busy, it's tempting to skip routine maintenance so you can keep using your equipment to complete jobs. This is one of the biggest mistakes you can make. Poor maintenance reduces the useful life of the equipment and puts your safety at risk, so it's important to follow the manufacturer's recommended maintenance schedule. You may need to lubricate machinery, repair worn-out parts, check fluid levels, or perform other tasks. Maintenance is important because it occurs on a scheduled basis and helps prevent unexpected downtime. If you maintain your equipment as recommended, you won't have to stop working to deal with sudden breakdowns.
Employee Training
Employees need to know how to use each piece of equipment safely. They should also know how to perform basic maintenance activities and what to do if the equipment stops working. For some types of equipment, all you need to do is perform a quick demonstration of how it works and answer questions from employees. If the equipment is complex, however, you may need to hire a trainer to come in and make sure everyone knows how to use it correctly. Have your construction office manager contact the equipment manufacturer for a referral to a local trainer with experience using the model you purchased.
Fuel Management
With gas prices skyrocketing, good fuel management is essential for keeping your costs down. If you rent, lease, or buy a piece of equipment that uses oil or gasoline, make sure employees know how to add fuel without spilling it. If the machine requires filters or additives, make sure you use the ones recommended by the manufacturer.
Utilization Monitoring
If you rent or lease a piece of equipment, it's important to do utilization monitoring to determine if the equipment is helping or hurting your bottom line. You can do this by tracking the number of hours the equipment is in operation or determining the average number of hours your team uses the equipment on each project. If you notice you're only using the equipment on 10% of your projects, you may want to rethink whether you want to continue renting or leasing it after your current term ends. If you use it on 90% of your projects, however, it may be beneficial to buy the equipment outright.
Equipment Upgrades
It's important to upgrade your equipment regularly to take advantage of new features designed to increase output and efficiency, reduce costs, and minimize the risk of injury to employees. If you rented or leased your current equipment, you can simply return it and ask for an upgraded model. If you purchased the equipment outright, you may be able to recoup some of your costs by selling it. Upgrading your equipment can help you limit downtime, prevent accidents, and boost employee morale, making it essential for the success of your contractor business.
Tools To Grow Your Business
Now that you know how to acquire equipment for your business, it's time to find new customers. CraftJack can help by sending you high-quality contractor leads who are ready to get started with projects of all sizes.